---
---
We visited Whitmyer Biomechanix on the 29th and with the physical therapist decided on an....
INVACARE 3G STORM
RANGER X
Sporty look highlighted by exposed suspension, aluminum mag wheels and a wrap-around battery enclosure
The Basic Look
The Storm Series' basic frame is made from 0.150"-wall 6061-T6 aircraft aluminum-approximately 80% to 300% thicker than traditional power chair frame componets. This component carries a lifetime limited warranty.
Maximum speed: 6.5 mph - Overall base width 25" - Overall base length 31.5'' - Turning radius: 37.5" to 39.5"
The MKIV provides a wealth of programming options to help virtually any user drive safely and confidently. Windows®-based MKIV one2one software provides invisible and intuitive programming by converting even the most

advanced clinical and functional questions into driving programs. Patented laptop IVS software allows the provider (via direct connection to PC) or Invacare Technical Services personnel (via modem) to perform diagnostics on the MKIV.
Fully programmable speed adjustment for all directions.
Drive wheels Pneumatic (standard) 14" x 3" We're opting for Foam-filled (optional) 14'' x 3'
Front Casters: Semi-pneumatic (standard) 8'' x 2.25'' May choose 9" x 3" foam-filled.
Caster suspension 8'' (optional) see below.
Rear Rubber Element Suspension (standard) We might opt for Monroe Rear Spring Shock (see below)
Custom armrests
70 degree fixed footrests
Captain's seat with 20" back adjusts from 80 to 170 degrees in 5 degree increments. Adjustable lumbar support.
We chose.....
Frame color Seat color

Electric Red

Gray
Out of 9 frame colors.

---
Details On Suspension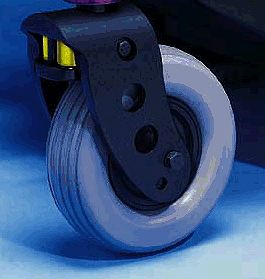 Shock Fork Option - The shock fork utilizes elastomers which can
be changed to provide optimal absorption for all weight categories.
| | |
| --- | --- |
| | |
| Standard Rubber Element Suspension - Independent rear-wheel suspension is designed to absorb significant jolts and impacts. For improved impact absorption and vibration control over uneven terrain, suspension package can be upgraded to the Monroe Spring Shock system. | We are considering the Monroe® Rear-Spring Shock Option - Independent rear suspension is vertically oriented for maximum shock absorption Monroe Shock and Spring allow for up to 2 inches of movement to absorb impact and provide maximum clinical comfort and function |
To provide additional power that today's active users need, the Ranger X utilizes a robust 4-pole motor. This incredibly
durable motor package is approximately 30% more powerful than traditional motors.
user.