---
Woodpecker thought to be extinct discovered in Arkansas
April 29, 2005
Woodpecker find gives hope of
North Florida existence
By Bruce Ritchie
DEMOCRAT STAFF WRITER
Richard West of Tallahassee may be one of the few people alive to have seen an ivory-billed woodpecker in Florida, but he considers it no great feat.
West was on the Chipola River near Scotts Ferry in 1950 with ornithologist Henry Stevenson when they spotted the bird, which scientists describe as a dramatic sight.
"I didn't see much of it," West said Thursday. "I saw it flying away from me - nothing I'd write home about."
His sighting, along with the recent discovery of the bird in Arkansas, keeps alive the hope among some bird lovers that the woodpecker still lives in North Florida.
That hope received a major boost on Thursday when scientists announced the discovery of an ivory-billed woodpecker in the deep swamp forests of Arkansas. They suspect that more live in the area and they will be working to help them survive.
[Ivory Billed Woodpecker discovered in Arkansas]
The announcement is "fabulous, stunning news," said Jim Cox of Tallahassee, conservation chairman for the Florida Ornithological Society. Although the bird was believed to be extinct, some people had held out hope that it was still alive, said Bob Bendick, southern region director of The Nature Conservancy. The St. Marks National Wildlife Refuge gift shop sells books about the ivory-billed woodpecker. Some refuge visitors, volunteers and staff have wondered if the bird was living there, said Robin Will, a refuge spokeswoman.
"I think ever since I've been here we thought surely they could be out here," Will said. "We have so many areas with dead or dying trees that they could be working on."
Refuge biologist Joe Reinman said he doubts the bird could survive on the refuge because there isn't enough of the hardwood swamp forests that they need. He said if the bird could survive in the area, it would be along the Aucilla and Wacissa rivers. Some scientists say the last confirmed sighting of an ivory-billed woodpecker was about 60 years ago. That was before West and Stevenson saw the bird along the Chipola River. Their sighting was recorded in Stevenson's 1994 book "Birdlife of Florida." Stevenson even seemed to cast doubt on his own sighting by stating: "Comparatively few reports since 1932 are convincing." Stevenson documented a handful of other sightings across Florida. In 1952, Sam Grimes and Roy Hallman reported seeing the bird fly across a highway between Wakulla Station and St. Marks.
Ornithologist Herbert Stoddard reported seeing one of the birds from an airplane near Thomasville, Ga., possibly in 1958, according to researcher J. V. Dennis. West said Thursday there was no doubt that he and Stevenson saw the ivory-billed woodpecker on the Chipola River in 1950. Other ornithologists had seen the birds along the river in 1949, according to Stevenson's book. West said he and Stevenson were investigating a reported sighting by a fishing guide in the area.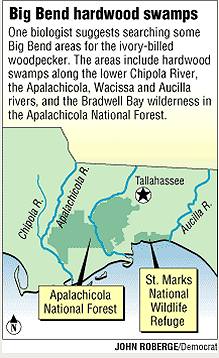 "I guess it (the sighting) is regarded as a feat. We didn't particularly regard it as a feat," West said. "We were just glad to find the bird."
Those past sightings, in combination with the recent discovery in Arkansas, raise the possibility that the bird is still in North Florida, said Frances James, a retired Florida State University biologist. She said the Suwannee, Apalachicola, Aucilla and Wacissa rivers and the lower Chipola River should be searched. So should the Bradwell Bay wilderness in the Apalachicola National Forest, she said.
"The fact somebody found them in Arkansas means we should take another look here and not assume they are gone," James said.
In Arkansas, the discovery of the woodpecker is launching a broad conservation effort there to protect the bird. In Florida, the state already is targeting the bottomland hardwood swamps for conservation purchases, Bendick said. He said a lot of people hope they will see the bird some day. "It does represent sort of being in touch with the wilderness," Bendick said. "It is an experience people would like to have - and I hope they will have it."