Tallahassee/Leon County Helps

Story -> FSU Enrolls Displaced Students From Katrina
Story -> Faithful Asked For Help
Story -> FSU Fans Asked To Be Generous
Story -> Storm Evacuees Invited To "Downtown Get Down"
Story -> City Of Tallahassee Workers, FSU Athletes Pitch In
Story -> Tallahassee Police and Leon County Sheriff's Officers Head To Mississippi
Story -> Football Games May Displace Evacuees


Faithful Asked To Help
At Temple Israel, Rabbi Jack Romberg issued a special "emergency edition" of his weekly bulletin, urging members of the synagogue to open their homes to refugees.
"As you might have heard on television, or read in the paper, there are many evacuees from Hurricane Katrina living in hotels here in Tallahassee," he wrote. "They are going to be kicked out of them this weekend in order to accommodate out-of-town football fans (don't even get me started on the ethics of that)."
He asked congregates to contact the temple if they can take in anyone stranded in Tallahassee.
"Please step forward to help with this mitzvah," he wrote.

---
Fans asked to be generous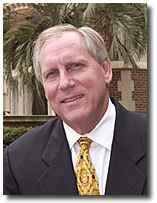 Florida State University President T.K. Wetherell issued a plea to all fans attending Monday's football game at Doak Campbell Stadium to reach deep into their pockets to aid victims of Hurricane Katrina.
Students will be on hand with buckets to collect cash and checks made out to the Red Cross. "We are asking all Seminole fans to open their hearts to the victims of this tragedy," Wetherell said.
Fans who are not planning to attend the game between the Florida State Seminoles and the University of Miami Hurricanes also can help by calling 878-6080 or (800) HELP-NOW.



---

Storm victims can get down
The United Way will do its part to help Hurricane Katrina victims at Friday night's Hancock Bank Downtown Getdown. All vendors at the FSU vs. Miami pre-football game party will provide free food to anyone showing a driver's license from Louisiana, Mississippi or Alabama. And the United Way will take cash and check contributions for hurricane relief at the intersection of College Avenue and Adams Street. Officials will provide receipts; checks should be made out to "Katrina Disaster Relief" or "United Way of the Big Bend."

"I know some people may prefer to make a face-to-face transaction rather than giving their credit card over the telephone as they make a contribution," said Ken Armstrong, president of the United Way of the Big Bend. "While many folks from Louisiana, Mississippi and Alabama make their way east to escape the danger and devastation left behind by Hurricane Katrina, we want them to know the people of Florida's Big Bend stand behind them and support them during their time of loss."

---
'We are thinking of them'




City of Tallahassee and Leon County workers, along with Market Square Shopping Center and numerous local businesses, are teaming up to offer a free dinner tonight for people displaced by Hurricane Katrina. The event starts at 6:30 p.m. at Market Square, 1415 Timberlane Road, near the Thomasville Road exit off Interstate 10.
Clerk of the Courts Bob Inzer said employees approached him Tuesday morning wanting to help people affected by Katrina. They kicked around some ideas, got in touch with Market Square, and the dinner event took off from there.
"We wanted to show a little Tallahassee love and caring," Inzer said, "and let them know that we are thinking of them."
Volunteers will be serving meals and collecting money and canned goods for the American Red Cross and Salvation Army. Florida State University athletes also will participate. People who want to eat dinner are asked to bring their IDs.
---

FSU Takes In Students
MIAMI - Some Florida universities have offered to temporarily admit college students from areas ravaged by Hurricane Katrina. Florida State University officials said they would offer in-state tuition for students whose studies were interrupted by Katrina. Five displaced students have already enrolled, and the school would help them find off-campus housing, a spokeswoman said.

---


Local law enforcers head west to help
About 30 on way to hard-hit Mississippi
By Nancy Cook Lauer
DEMOCRAT CAPITOL BUREAU CHIEF
One quick blink signified the needle had hit home, and Deputy Steve Bradley was all set to go.
"Hardly felt it; she's really good," Bradley said of Ann Waltz, a registered nurse with the Leon County Health Department.
Bradley is one of about 30 law-enforcement officers from the Leon County Sheriff's Office, Tallahassee Police Department and Gadsden County Sheriff's Office volunteering to put themselves in harm's way as the first contingent of local law enforcement officials who headed out Wednesday to keep the peace in areas hit hardest by Hurricane Katrina.
The group - whose two-week mission includes restoring order, directing traffic and thwarting looters - follows state teams of search-and-rescue specialists who left Tuesday. The local officers are headed to Hancock County, Miss., where they'll perform law-enforcement, security and humanitarian duties.
Big, brawny men, their hair cropped short or shaved off, wearing the green uniforms of the sheriff's offices or the black T-shirts and navy cargo pants of the police department, fidgeted in line as they waited for their needles.
The diphtheria/tetanus shots came courtesy of Leon County Sheriff Larry Campbell. The task force also is taking face masks, gloves, heavy rubber boots, food and water, and even its own living quarters in a convoy that includes four-wheel-drive vehicles, squad cars and trailers.
Campbell also suggested the officers buy some Noxzema to wear on their upper lips and even smoke cigars to help them deal with the stench of the waterlogged bodies they're sure to encounter.
"It will help you make it through the day and keep your lunch with you," Campbell said. "A dead body will hurt you.... We don't want you to catch the creeping crud."
Campbell also suggested the officers relay as much information back to their headquarters as possible because no one is sure what they'll encounter and what will be needed as residents of the storm-ravaged coast try to put their lives back together. The process will take many months, if not years, Campbell said.
And it's not just the untold numbers of dead that create a threat. Reports of widespread looting, shootings and attempted carjackings in New Orleans also had officers on edge.
"Right now, there may be the appearance that order is not present," said Tallahassee Police Chief Walt McNeil. "That's what this is all about: to save lives and, more than anything, making sure it's known that out of this chaos, there will be order."
---

Football may displace some local evacuees this weekend
By James L. Rosica
DEMOCRAT STAFF WRITER



Betty Durnin, a Hurricane Katrina refugee, isn't worried about being kicked out of her motel room for a couple of nights because of Monday's Miami-Florida State football game.

She's concerned about the week after that. And the week after that.

"We may not be able to go home for a while," said Durnin, a lifelong resident of St. Bernard Parish, just east of New Orleans. Much of the parish, or county, is under 10 feet or more of water from the storm.

Local officials still don't have a handle on exactly how many evacuees are in the Big Bend, or how many will be temporarily inconvenienced. State law requires innkeepers to honor room reservations.

Also, "I'm not sure that changing the game (date) is an option," said Rob Wilson, FSU's sports-information director.

The big question is: Then what? It could be weeks - or months - before flooding subsides, debris is hauled away and power is restored to affected areas.

Some people from areas that Katrina missed are starting to check out and go back, according to John E. Citron, interim president of Tallahassee Area Convention & Visitors Bureau.

For those staying, his group has sent Red Cross contact numbers to hotels and motels, telling them to inform those evacuees who have to vacate rooms. There could be two waves: A Friday-Saturday block for the Delaware State-Florida A&M game, and Sunday-Monday for the FSU game.

"It's very possible that we have 10,000 evacuees, and that's a conservative estimate," Citron said. "We're a hospitable community and we want to accommodate as many folks as we can. We're not just focusing on football."

Roberta Maddox, assistant relief officer for the Capital Area chapter of the Red Cross, said her organization now is shifting to "long-term sheltering."

"We'll have to keep it up until these people have a place to go," she said.

As of Wednesday, there were 75 people at the shelter in the Church of Jesus Christ of Latter Day Saints on Thomasville Road, Maddox said.

There are five other local churches and the city's Senior Center ready to become shelters, with a total capacity of 3,000 people. As one becomes full, the Red Cross will open another, Maddox said.

There also is food available to hurricane evacuees at the Thomasville Road shelter, whether they're staying at the shelter or not, offering three meals a day, including a hot dinner. More feeding centers, as they're called, will open as needed.

Volunteers are on hand to also offer snacks, bottled water, children's games and emergency supplies of diapers. A mental-health counselor and a nurse are on site.

For people such as Durnin, a place to stay doesn't worry them as much as what they will eventually return to. She and nine family members, including her 16-month grandchild, fled Katrina and checked in at the Monticello Days Inn.

She was touched when one man she met offered to put them up in his Jefferson County house. But, she added, after that, "There's nothing left to go home to."

"We all lost our houses," she said. That news came from her son, a police officer who stayed behind.

"My house is under 12 feet of water," said Michelle Durnin, her daughter-in-law. She'd rather not stay in a Red Cross shelter here, she said, "but I will if I have to."

As Betty Durnin put it, their future is in question.

"Your home's paid off, you've acquired things, then this happens," said. "Now we have nothing."

END
---
Website Counters