THE CLAN HAMILTON
IN IRELAND, PENNSYLVANIA, OHIO AND INDIANA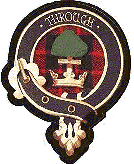 The Hamilton Motto
-Through-
In Gaelic "Troimh"
An extensive history of the Hamilton clan
extending into the 1100's can be seen HERE




IN AMERICA
The Hamiltons, Shaws, and Montgomerys, were among the families that emigrated from Scotland in 1640 and settled in Northern Ireland. When these families came to America they settled near each other, and often inter-married. They settled first in Pennsylvania and later in Columbiana County, Ohio. In Pennsylvania and Ohio they were called Scot-Irish. The men of the Shaw and Hamilton families were not tall but were of sturdy build. The women were small.

DAVID HAMILTON
David Hamilton is the oldest Hamilton known in this lineage. His date of birth can be estimated around 1789. It is known that he married a Jane (last name unknown). Nothing is known of David other than he had two sons, David Hamilton and John Hamilton

JOHN HAMILTON
John Hamilton was born November 26, 1807, in Pennsylvania. He married Elizabeth Shaw of the previously mentioned Shaw clan. Not much is known about this generation other than a cousin of John's, Catherine Hamilton Nesbit, lived in Orange Township with her husband J. Nesbit. They had 2 children at least with their names being Ida Nesbit (1863-1883) and Alvertus Nesbit who married Jane Swank in Orange Township, Ohio, and eventually were living in Chanute, Kansas. Catherine and John's fathers were brothers. John & Elizabeth Hamilton had 11 children. Children were:
1. David Hamilton b. 1835 7. James Hamilton b. 1848
2. Sarah Jane Hamilton b. 1836 8. Thomas Hamilton b. 1850
3. Mary Hamilton b. 1840 9. Euphema Hamilton b. 1853
4. Jonathan Hamilton b. 1842 10. Amanda Hamilton b. 1856
5. William Hamilton b. unknown* 11. John Jefferson Hamilton b. 1860
6. Margaret Hamilton b. unknown*
*William and Margaret died in infancy. William in Columbiana County and Margaret in Hancock County.
In the Autumn of 1846, John Hamilton and wife Elizabeth Shaw Hamilton left Columbiana County and headed west for Hancock County. They too settled in Orange Township, Section 19, where Jonathan bought 143 acres of hardwood forest land from one Beriah Battles. It is located on the Allen County line, 3 miles south of Bluffton, Ohio. The deed to this land was written on sheep-skin and bore the signature of President Andrew Jackson. The 143 acres of land had to be cleared so John and family resided in a squatters cabin from 1846-1855. John was a blacksmith by trade and made products for neighbors in exchange for their help in clearing land and in erecting his buildings. The hardwood was either used for buildings or fences, otherwise it was burned. Elizabeth Hamilton related that she had assisted in rolling logs into piles for burning.
In 1885 a two story home was constructed on the Hamilton property. The home's exterior was made of lapped weatherboard cut from Sycamore and Black Walnut trees on the property. The doors and window frames were made of Black Walnut as well as all inside trim and stairway. This home was once a beuatiful place and scene of great activity for the Shaw clan. By the 1950's the home was in serious disrepair with the veranda having been torn of the front of the home - shade trees surrounding the home had either died or been cut down. The same had happened to the orchard.
John Hamilton and Elizabeth Shaw Hamilton were members of the United Brethren Presbyterian Church. On Sundays the family would attend church services at Cannonsburg, Ohio. The distance there and back was 16 miles over extremely rough roads in a farm wagon. While at church they would listen to a 2 hour sermon, then eat lunch which they brought with them, then they listened to another long sermon in the afternoon before returning home. On the Sundays when it was not possible to attend church, the family engaged in reading the Bible. John Hamilton played some musical instruments and had a good voice for singing. He was athletic and could out jump his sons when he was in his late 50's. The previous was stated by their son, John J. Hamilton.
John Hamilton died at age 69 on August 16, 1877, and was buried in Thompson Cemetery. Elizabeth Hamilton died at age 78 on October 6, 1892. She is also buried at Thompson Cemetery 4 1/2 miles southeast of Bluffton, Ohio. Elizabeth and Jonathan are the Hamiltons that this branch of the Hamilton family originated.



DAVID HAMILTON
David Hamilton was born July 13, 1835 in Columbiana County, Ohio. He was the first of 9 children born to John and Elizabeth Hamilton. David was 10 years old when the family moved west from Columbiana County, Ohio to their new home south of Bluffton, Ohio. David was 18 years old when he married 18 year old Mary Hand in 1853. Mary Hand was born July 26, 1835. David and Mary Hamilton had 9 children. The children were:
1. William Hamilton b. unknown 6. Roxie Hamilton b.c. 1863
2. Thomas Hamilton b. 1858 7. Selina Hamilton b. 1864
3. John David Hamilton b. 1859 8. Joseph B. Hamilton b. 1867
4. Sarah Jane Hamilton b. 1861 9. Lillie May Hamilton b. 1869
5. Jonathan R. Hamilton b. 1862
There is no record of Wiliam Hamilton other than he died in 1880 and was buried in Preston Cemetery near Alger, Hardin County, Ohio.
Lillie May Hamilton was 11 months old when her mother Mary Hand Hamilton died. Lillie May went to live with her grandmother, Elizabeth Shaw Hamilton, on the farm in Hancock County, Ohio, until she was 22 or 23 years old. Lillie May would then marry at 26 years of age.
David Hamilton remarried to Eliza Jane Wallace in 1872. They had 4 children from teir marriage.
1. Elmer Hamilton b. 9-21-1873 3. Hulda V. Hamilton b. 8-20-1876
2. Melvin Hamilton b. 11-24, 1874 4. Alva E. Hamilton b. 3-10-1878
David Hamilton died in 1908 at age 73 in Warsaw, Kosciusko County, Indiana.


THOMAS HAMILTON
Thomas Hamilton was born July 9, 1858, near Bluffton, Ohio. He married Samantha Jane Miller who was born May 8, 1856. Samantha died January 26, 1918. Thomas died April 27, 1932. Thomas and Samantha had 6 children. They were:
1. Lydia Hamilton b. 1878 4. Sarah Hamilton b. 1886
2. Lemuel T. Hamilton b. 1882 5. Joseph A. Hamilton b. 1888
3. James Franklin Hamilton b. 1883 6. Mary Jane Hamilton b. 1890
Click for children of Thomas Hamilton
Samantha Jane Miller Hamilton died January 26, 1918 at the age of 61. Thomas Hamilton died April 27, 1932 at age 74. Both near Leesburg, Kosciusko County, Indiana.


JAMES FRANKLIN HAMILTON
James Franklin Hamilton b. May 6, 1883. d. Aug. 19, 1960. Lived and farmed near Leesburg, Indiana. Married Sarah Elizabeth Meyers on July 7, 1904. Children: Iva Ellen, Donald, Violet, Annabelle, Ruth, Mable Marriett, William Clifford, Russell, Isabelle, Hazel. Sarah Elizabeth Myers b. Jan. 27, 1883. d. Aug. 15, 1964. Mother: Hannah Elizabeth Biller. Father: William Myers. Sisters: Minnie and Daisey. Brothers: Charles and William.
1. Iva Ellen Hamilton 6. Mabel Marriett Hamilton
2. Donald Hamilton 7. William Clifford Hamilton
3. Violet Hamilton 8. Russell Hamilton
4. Annabelle Hamilton 9. Isabelle Hamilton
5. Ruth Hamilton 10. Hazel Hamilton

The name Hamilton and how it relates to the author and his family.
1. David Hamilton b. unknown
2. John Hamilton b. 1807
3. David Hamilton b. 7-13-1835
4. Thomas Hamilton b. 7-9-1858
5. James Franklin Hamilton b. 5-6-1883
7. Iva Ellen (Hamilton) Taylor b. 2-11-1905