Taylors In Tallahassee
Click On Any Small Photo Below For A Larger One.
A Map Of Where We Are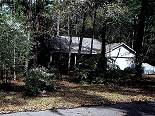 This is a view of our home from looking southeast. Pines, a Sweet Gum, Water Oak and Laurel Oak fill our front yard. We are not landscaped but xerascaped. We opted for a more natural appearance - not liking to use fertilizers that run-off. This photo was taken in Spring when we lose about 50% of our leaves and new growth starts.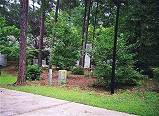 This photo was taken just about 15 feet to the left from the photo above and at the edge of our neghbor's driveway. This photo was also taken in mid-summer so the trees are full. The house is hidden behind the small Sweet Gum tree. (taken in Summer)

This is a Japanese Magnolia planted by the street light. It's always the first to show life after Winter. You can see it above but with leaves. This photo was taken in mid-February.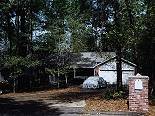 This is a view of the house in the mid-Springtime from the other corner of the property. Slightly to the right of the mailbox is a 15 ft. wide greenway seperating us from our neighbors. A Laurel Oak stands behind the mailbox with a large Black Cherry to the right of that. A Florida Maple and Silver Maple are to the left of the driveway as well as a small Black Cherry just to the left but not shown. (#1)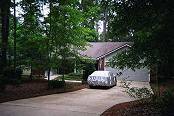 Just another view but closer and taken in late Summer.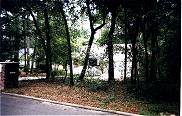 The house from just a bit furthur down
Cheryl built our mailbox back in 1992. On top is a rabbit laying down.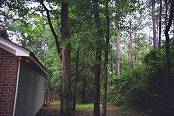 This looks along the south side of our home. You see a pretty tall Laurel Oak maybe 60 feet tall next to the garage. To it's right is a Black Cherry that's maybe 30 feet tall. Behind those two is a small Dogwood and in the far distance are Long Leaf and Short Leaf Pines about 90-100 feet tall.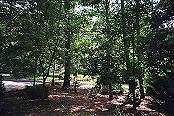 This photo was taken from our porch and looks out to the west southwest and Folkstone Rd. Here you can see our wooded front yard in mid-summer.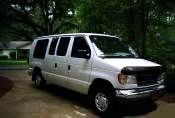 A photo of our van... but this does show the large Live Oak directly across Folkstone Road and a different view.
This is a view of the Long Leaf & Short Leaf Pines that we have here. These are somewhere between 85-110 feet tall. Makes things a little tense when we have a tropical storm heading this way.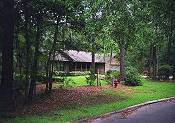 This is our neighbor's home to the south of us or to our right as you face our home.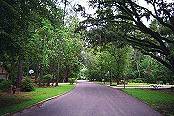 This is Folkstone Road looking south. A Live Oak tree reaches over the road on the right.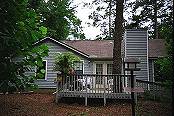 This is a vew of the rear of the house. Not much has changed here except the London Plane Tree which is in the Sycamore family (left) now extends out over the bird feeder. We planted this Sycamore in 1997 as a 2 foot twig. It is now over 30 feet high with a 20 foot spread.
Another view not too unlike the above. This one shows the Tulip Poplar tree behind the bird feeder which is now twice that size. The ramp portion of the deck was put in by Jim Neuman in 1992.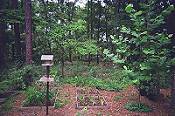 This is from our deck in the rear. Obviously the Sycamore is much larger this year. In the square beds are day lilies which we acquired from a neighbor.

Looking down the ramp (North) - within this picture is a young Live Oak and a Hybrid Poplar (front) which is very fast growing. To the extreme right is a pine tree growing through the deck. Not our idea but costly to remove. The tree is about 90 feet in height.
Just a picture of a flowering White Dogwood over the corner of our house. We have 3 Dogwood trees but this seems to flower best. (late February)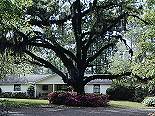 This is a Live Oak tree across from our house on Folkstone Road. Picture taken from our driveway.
(late February or early March)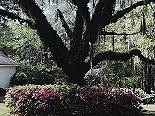 A close-up shows the pink azaleas that are planted around it.
Click Here For Other Photos Of Tallahassee


THE END